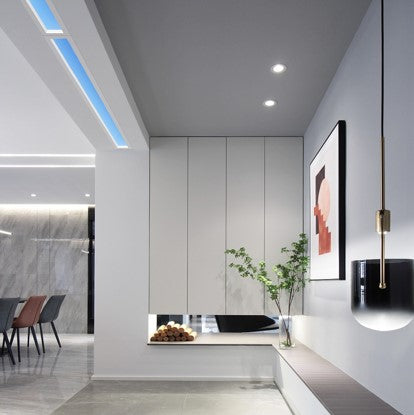 What is Yuji Skyline™:The Best LED Skylight
Yuji Lighting Skyline™ is a lighting system based on sunlight simulator technology to artificially create an LED skylight with the visual experience of natural sunlight and a clear sky. With breakthroughs in mimicking sunlight and sky simulation optics, Yuji Lighting Skyline™ brings a true blue sky to your home, ensuring a sufficient daily relationship with natural sunlight for visual comfort and mood health.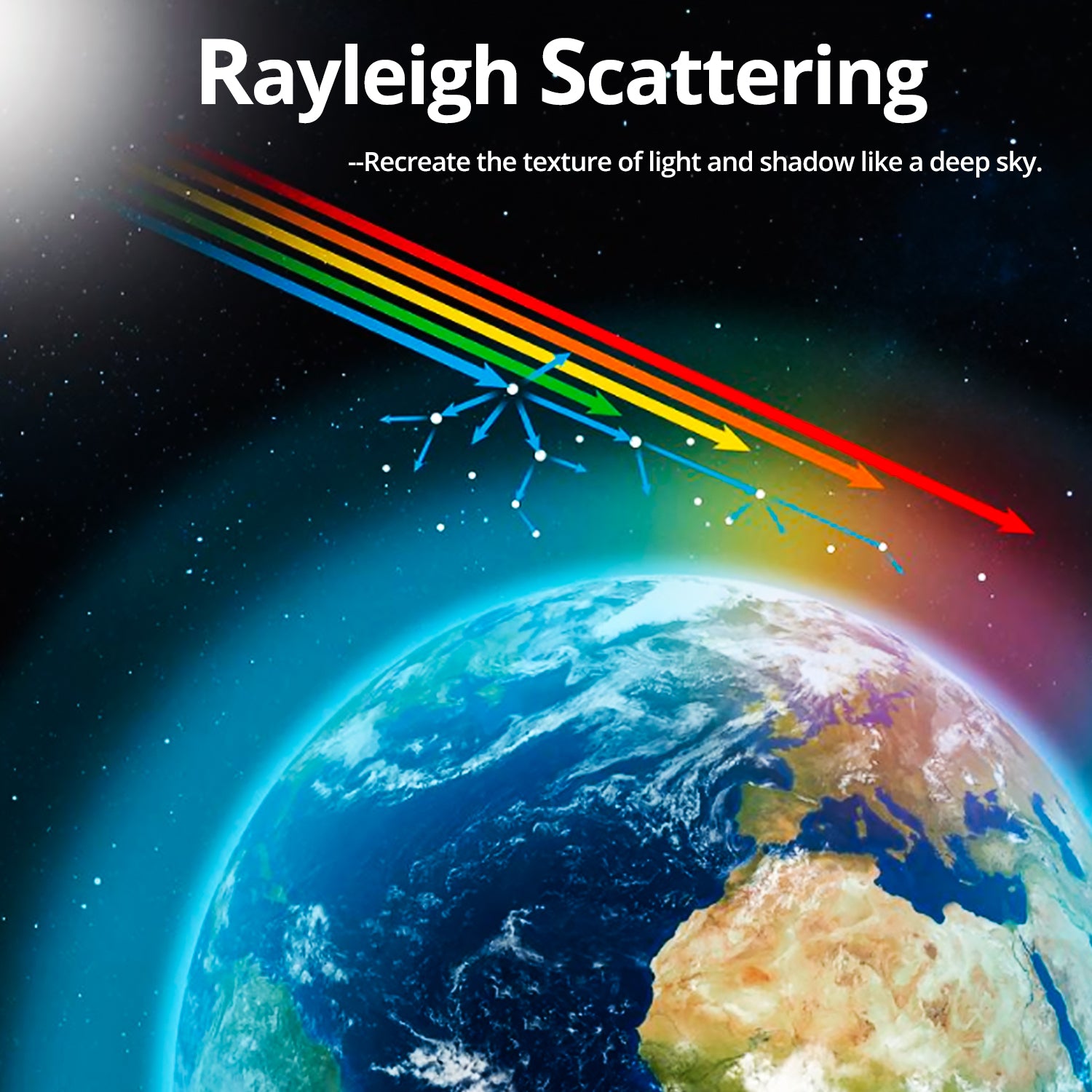 How Yuji Skyline™ Works: An Artificial Skylight for Your Space
Our sunlight simulator technology brings the real effect of natural sunlight in a clear blue sky to your space with our Yuji Lighting Skyline™ skylight! When the sun's light reaches the earth, it disperses differently by incident angles, thus the sky looks blue during the day, and turns red-orange for sunset.
With capabilities to imitate sunlight at different intensities, our LED virtual skylight simulates a real blue sky incorporating Rayleigh scattering as well and creating an enjoyable and warm natural daylight experience!
Yuji Skyline™ Family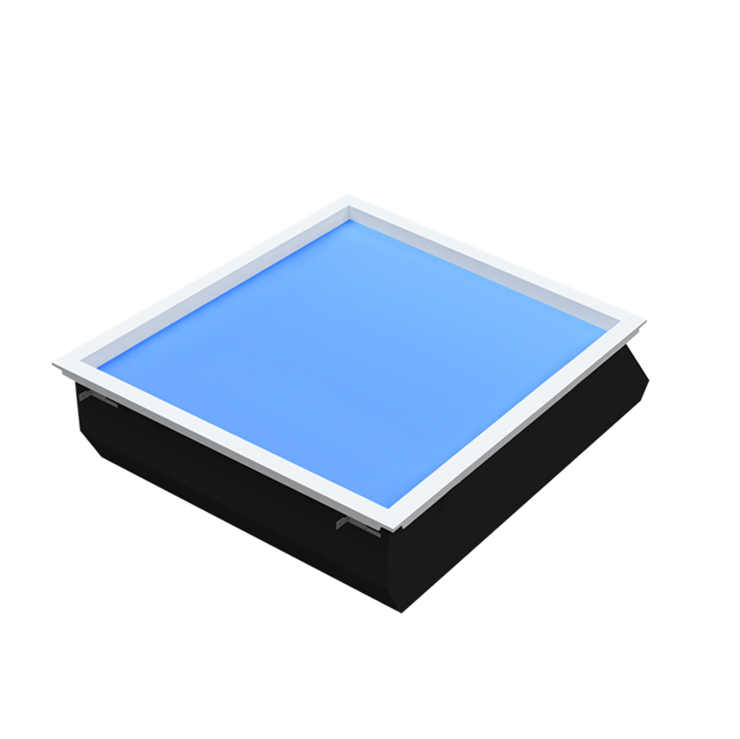 Benefits of Yuji Lighting Skyline™
1. LED Lighting for Health and Wellbeing
By integrating dynamic sunlight data during a day, the Yuji Skyline™ LED skylight fixture can simulate scenes including a forest in the morning, sun in the afternoon, and sunset by the river, creating a relaxing atmosphere and light healing space in the room that reduces the level of anxiety and improve living mood.
Maintaining an alleviated state of mind, happiness, and a stable mood is necessary for mental health. Our ceiling skylight is the best lighting for health because we utilize the natural healing effect of sunlight to relieve mental stress and improve emotional state and social skills. A study on the effects of color light and dynamic lighting on atmosphere perception and psychological relaxation was done by Eindhoven University of Technology. The results show that the slowly changing orange lighting environment can create a relaxed, comfortable atmosphere and help relieve stress and get recovered.
2. Smart Control Creates Dynamic Sky
With Yuji Skyline™ smart control software system, it is easy to have sunlight of desired time of day, color temperature, brightness, shining angle by using a smart controlling APP, transforming your artificial skylight into a more real and dynamic lighting experience for indoors. Circadian clock settings are available as well!
3. Easy Installation
a. Embedded Ceiling Joist Installation:
b. Ceiling Spring Clip Fixed Installation:
Applications of Yuji Lighting Skyline™
Residential Areas: Basement; Leisure; Corridor; Living room; Bathroom. Yuji Skyline™ LED roof light system guarantees sufficient exposure to artificial sunlight that enhances a residential quality. This is like opening a new window introducing real sunlight into rooms with plenty of brightness and a strong sense of space and nature
Public Areas: Open area, Subway platform. The open areas of large commercial shopping malls, such as entrance halls, front halls, and waiting areas are quite essential for customers' first impression of their shopping experience. Using Yuji Skyline™ LED skylight lighting fixture, can expand the field of vision and at the same time ensures the visual brightness of the public areas is easier and much more comfortable compared to under traditional indoor lighting systems.
Working Areas: Office; Reception desk; Meeting room; Exhibiting room. Traditional lighting can only simply provide the visual brightness of the office space. In view of the large depth of the office space, Yuji Skyline™ LED rooflight system not only addresses the issue of insufficient indoor brightness but also enhances the sense of space and creates a positive office atmosphere with the vivid natural sky and sun experience.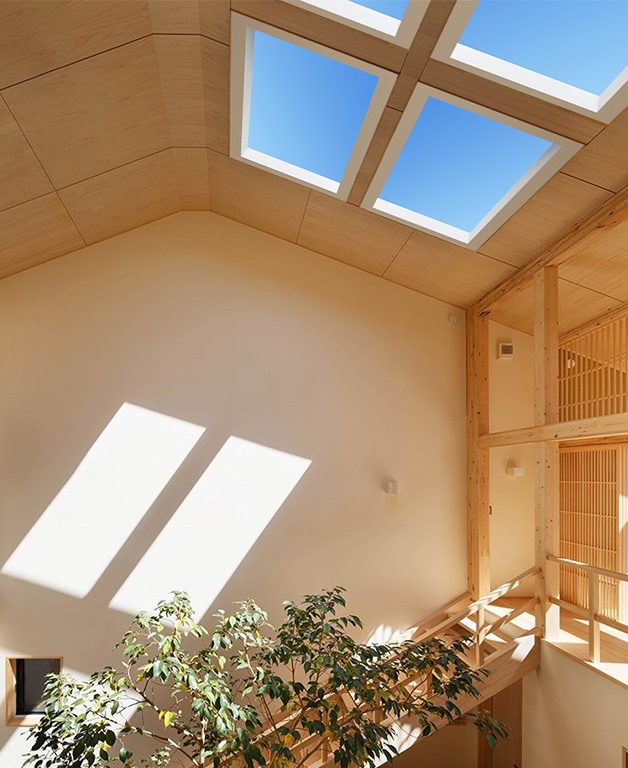 Retail: Stores; Food; Cosmetics; Automobiles. It is quite essential for retailers to create uniquely bright and prominent commodity display areas with a relaxed and comfortable shopping environment.
A shopping location filled with natural sunlight under a rooflight will definitely increase the shopping pleasure and give goods an appealing appearance and visually live and real. It attracts more customers, prolongs the customer's stay, which increases the possibility of purchase, and provides more comfort and aesthetics to the work environment.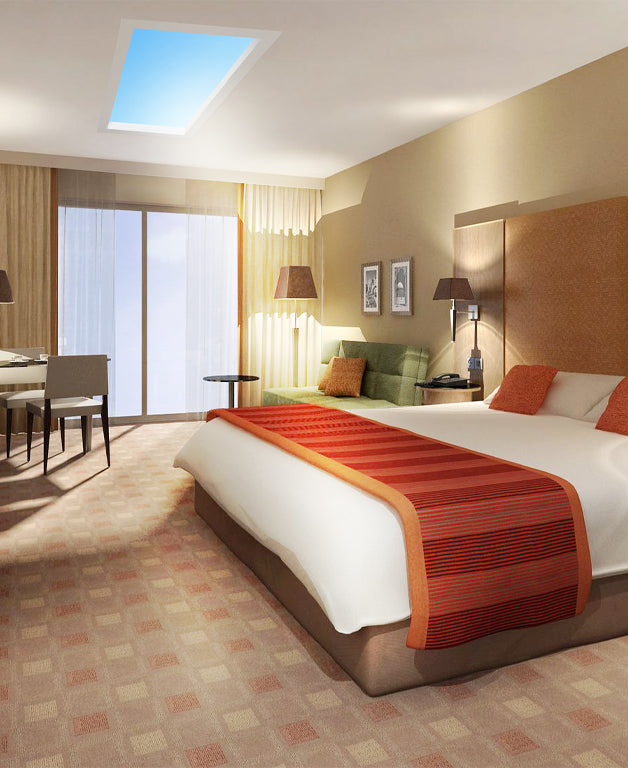 Entertainment Areas: Hotel; Spring; Club; Restaurant; Bar; Cinema. Yuji Skyline™ artificial skylight system creates a unique lighting environment that only the real sun can do. By creating a natural blue sky and bringing a relaxing atmosphere, especially in enclosed rooms, Yuji Lighting Skyline™ expands the spatial sense and arises people's sense of pleasure around the building, and increases the sense of well-being and relaxation.
Artistic Areas: Applicable: Museum; Gallery; Exhibition. Yuji Lighting Skyline™ LED rooflight system provides architects with all the possibilities of free design. It is like putting a sun lamp on each display to make the exhibits shine. It can also help to create a naturally bright art display area.