Yuji Well24™ Circadian Lighting
What is Circadian Lighting?
Circadian lighting, also known as "Human-centric lighting", is a popular term in recent years. The term "Circadian rhythm" unveils the human body's biological functions to regulate our sense of day and night which is naturally developed under the long-term use of real sunlight. This is an innovative finding that expands the function of lighting from brightness illumination to biological care and wellbeing. The effect of circadian rhythms has been observed for centuries in both plants and animals as well.
Circadian lighting is the lighting technology that is designed to have a biological impact on the human circadian rhythm regulation. By sending signals with specific light triggers to the brain, our body knows when it is daytime and when it is night, and what functions should perform during various times of the day. Healthy circadian lighting is designed to improve long-term health and helps promote better sleep at night, allowing our bodies and minds to keep health well-regulated during 24 hours of the day.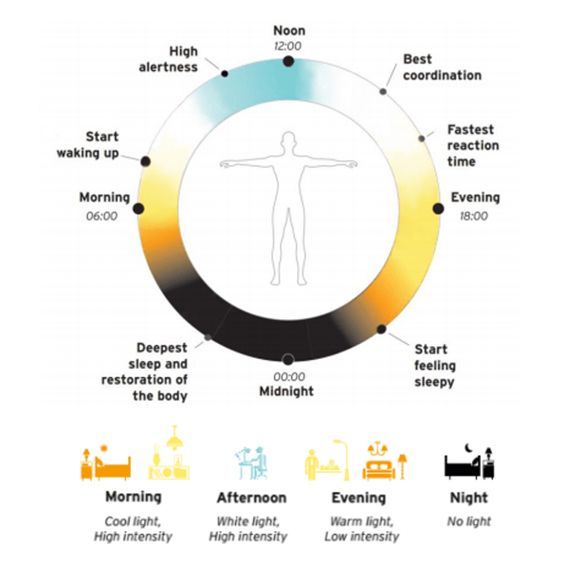 Human circadian rhythm: The Base of Yuji WELL24™ Technology
In the 1980s, many biologists found the circadian clock in the human brain which controls our daily circadian rhythms of hormones, body temperature, sleep, and wake. In long-term natural selection, the human biological clock and sunlight are closely related. Therefore, people's work efficiency is higher in the afternoon and lower in the early morning and evening.  Yuji WELL24™ circadian lighting is designed to have a positive biological impact on the human circadian rhythm system.
How does circadian lighting work - Cyan light
In the morning and evening, the sunlight doesn't have too much cyan light. But in the afternoon, the blue-greenlight is the main part of the sunlight. Scientific research proves that it is this difference that affects the biological clock, which in turn affects the human circadian rhythm system. Now that we know how circadian lighting works, we can control the light so that those indoor and shift workers can enjoy lighting that is completely in line with the biological clock.
Untimely Light: Disrupting the circadian rhythm
While artificial light sources expand human activity time, they also inevitably have an impact on human biological clocks. Compare with other lights sources, the common white LEDs obviously lack cyan light. Studies have shown that this deficiency can cause a person's biological clock to be disturbed and may cause health problems. For this reason, we have developed a series of new technologies to bring healthy lighting to people.
Super comfortable
Fire has always been the only artificial lighting method before the invention of the incandescent lamp. Humans have long adapted to nights with fire. In the faint firelight, one will feel warm, comfortable, and relaxed. And then get enough rest and even peace of mind sleep. Well24™ circadian lighting will be used in the bedroom. Perfectly simulating firelight will bring a comfortable nighttime experience. At the same time, it can also be used as an ambient atmosphere lamp indoors or outdoor.
Benefits of circadian lighting
1: Increases work efficiency
Daylight is the traditional light source for working. But now more and more people working in the room or night. Studies have shown that noon or afternoon sunlight can improve the work efficiency of workers, while common indoor light sources are quite different from afternoon sunlight. Therefore, at work sites, artificially simulated afternoon sunlight can help extend the hours people can work productively. WELL24™ Day still simulates the rest of the afternoon sunlight after filtering out the harmful blue-violet regions.
2: Makes for a better sleep
When the day comes to dusk, the human body clock also comes to relax mode. Commercial LED light sources have more blue light in the spectrum, which destroys the rhythm of the human biological clock. The time that needs to be relaxed cannot be well relaxed, which brings more health risks. By simulating the evening sunlight, WELL24™ Nite does not damage the rhythm of the biological clock, which avoids health risks and greatly prolongs the time for people to relax.
WELL Building Standards for Circadian Lighting
The International WELL Building Institute (IWBI) has released the WELL Building Standard to guide the design of buildings and communities to enhance comfort, health, and well-being. In its Feature L03, the IWBI provides circadian lighting standards for work areas, breakrooms, living environments, and learning areas. Feature L03, Circadian Lighting Design, is in place to provide architects with appropriate light exposure to enhance circadian rhythms. All regularly occupied spaces in the project must have lighting that achieves a minimum of 120 EML (equivalent melanopic lux) to obtain points for this feature. Melanopic lux is measured on the vertical plane at the eye level of the occupant (about four feet off the ground). Feature L03 is an effort by IWBI to create a metric for melanopic vision, which takes into account not only visual perception but also the non-visual biological impact of light.  By offering circadian lighting standards for a variety of spaces, the IWBI can assist architects as they develop lighting solutions supporting humans' visual and non-visual needs.
As more studies and market sectors explore the uses and benefits of circadian lighting, architects will continue to refine the ways this concept can support people's health and well-being in a variety of settings.
Yuji WELL24™ Empowers – SAGA Space Architects Circadian Lighting Projects​
In 2024 humans will land on the moon again. LUNARK is a deployable moon habitat tested on a 3-month analog mission 1000km north of the polar circle.
If we are to have a prolonged presence on the Moon, our astronauts must thrive; not just survive. A key factor for psychological and physical well-being is the need for a stable circadian rhythm, which the Moon lacks due to it's 28 day-night cycle. Our custom-made Circadian Light Panels bathe the interiors in pseudo-natural daylight, accurately emulating the subtle hourly variations of natural daylight here on Earth.
International Space Station lighting project "Space Lamp"
After a year of theoretical verification, technology research and development, and product experiments, we and SAGA are extremely excited to announce the official landing of the International Space Station lighting project "Space Lamp", and this summer with SpaceX's Crew Dragon stationed on the International Space Station, and fully participate in many topics that study the relationship between the space lighting environment and human health. 
03
Circadian Light - Night
04
Circadian Light - Red Opens
05
Circadian Light - Red Closed Eyes
03
Circadian Light - Night
04
Circadian Light - Red Opens
05
Circadian Light - Red Closed Eyes
Applications of Yuji WELL24™ Circadian Lighting
Work Areas: Studies have shown that the introduction of circadian lighting can improve workers' efficiency by 20%. Use the Well24™ Day series to boost your energy and improve concentration at work.
Living Environments: Circadian lighting can significantly influent humans' well-being, sleep quality, and mood. Using the Well24™ series can raise your mood and improve your sleep, providing you happiness for 24 hours a day.
Learning Areas: Using Well24™ circadian lighting will promote your physical and mental health, increase brain alertness, and fasten the cognitive process. It helps you to read and learn better, and reduce errors.
Health Care And Hospitality: Well24™ circadian lighting is also useful in healthcare and hospitality, as it helps to decrease hyperactivity and Seasonal Affective Disorder.